Would you like to register your boat but not sure how to begin? You can find it easy to submit a boat registration using our easy-to-understand portal. Using this method will save you time and allow you  to get underway on Canadian waters conveniently and fast.
How to Fill Out a Boat Registration through the National Vessel Registry Center
To start our registration process, you only need to click on an easy-to-read tab. It will take you directly to the registration form. Once you know the basic requirements for registration, you can complete the form and pay fees online relatively fast.
You should fill out a form if you operate a commercial vessel that is at least 10 horsepower or 75kW. The smaller vessels are recorded in the Registry of Small Vessels. You can also opt to register a pleasure craft with a 10hp or 7.5kW motor. However, this is not necessary if you're not mortgaging the craft or you plan to stay inside of Canada when boating.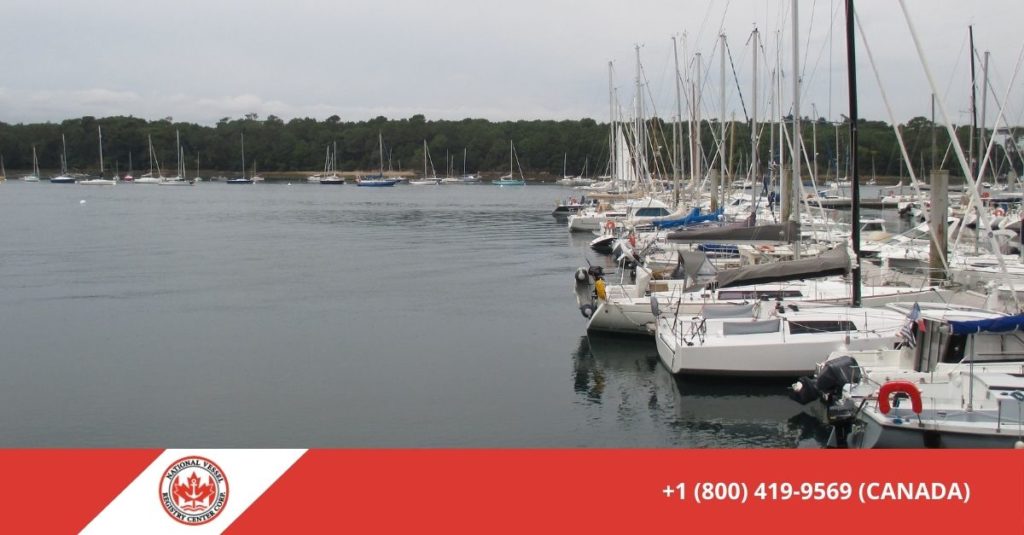 When You Have to Register Your Boat
Small vessel regulations in Canada mandate registration if your don't own a pleasure craft, it is wholly owned by a qualified person, and you have not otherwise registered it in a foreign country. 
Voluntary Boat Registration in Canada
Again, you can voluntarily register a pleasure craft if you're considered a qualified person and your boat features at least a 10hp (7.5 kW) engine. Registering your pleasure craft is often preferred over getting a licence, as it can support ownership of your vessel and you receive certain perks. You can name your boat for identification purposes and fly the Canadian flag.
What Is a Qualified Person?
If you plan to take out a mortgage on your pleasure craft, you have to choose registration over licensing. Anyone who is a citizen of Canada, permanent resident or the owner of a corporation that is based in Canada is a qualified person.
Completing the New Boat Registration Form Online
When you fill out the form online through the National Vessel Registry Center, make sure it is completed truthfully. The 2001 Canada Shipping Act states that any misleading details included on the form are subject to fines and punishment.
When you fill out the form online, you first need to supply the name of the boat and port of anchor or registry. The form allows you to insert 3 boat names you like (first choice to third choice). Choosing some backup names prevents registrants from receiving the same boat name that is already on file.
Selecting a Boat Name for a Registered Boat
Your selection of a boat name will allow search and rescue (SAR) personnel the ability to find you in case you're involved in an emergency. Therefore, you want to choose a name that is easy to say and read – one that can be clearly and distinctly heard over the radio. For example, Ships Ahoy is easy to remember and say as is Decked Out, Smoke on the Water, and Swallow Tail. 
A name that is a little more difficult to spell or say, such as Leviathan, might not work out that well when rescuers are trying to find it.
Adding Some Particulars
Once you add your name selections and port of registry, you'll need to add some particulars. The form asks for the type of propulsion (self-propelled, sail, auxiliary, or none) and the method for propulsion (single screw, twin screw, triple screw, or jet). You'll need to insert the type of engine and whether it runs on BHP or kW power.
Including the Details
Next, you'll need to add the length, gross tonnage, net tonnage and the type of tonnage. For any multihull or monohull vessel under 12 meters long, you can select "Assigned Formal Tonnage" (AFT), which is non-calculated. 
You'll need to know the construction materials of the hull and the type of build. You'll also have to include the hull serial number, the name of the builder, and the place (city) and year of construction. Include the province/statt and country. 
If you're using the boat for a non-pleasure craft, you need to complete the Descriptor of Vessel. In this case, you'll select "Fishing," "Passenger," "Tug," or "Cargo,"
If your vessel is an air cushion vehicle (ACV), you'll need to add this detail. Answer "yes" or "no" if the boat was registered before in Canada or another country. Also, indicate if the vessel is registered as "under construction."
All commercial vessels of all types and sizes that are over 15 gross tonnes and any vessel–pleasure craft or commercial–that navigates outside of Canada should be registered. If you own a pleasure craft that is at least 10 horsepower or 7.5 kW, which you don't plan to use as collateral for a marine mortgage or don't want to operate outside of Canada, you may just want to license it. 
However, if you want to name your pleasure craft, apply for a boat mortgage, display the Canadian flag, or back up your ownership of the vessel, you'll find it more practical to pay for registration. Registration costs $525 when you submit your application for Transport Canada through the National Vessel Center.
Stay Up-to-Date on All Your Boat Registration and Licensing Needs
We'll keep you up-to-date on all your boat registration and licensing needs, and do it in a simple and organized fashion. That way, you can register, license, transfer registration, or make any changes with streamlined ease.