If you are not planning on registering your pleasure craft, then you will need to get your pleasure craft license if this follows a few particular specifications. This isn't a complicated process, but it does require a few forms to fill out. Our pleasure craft electronic licensing system, will help you get that carried out easily.
Pleasure Craft Electronic Licensing System
There are many different forms that pertain to your pleasure craft license, its renewal, its transfers, or its legal copies. If you are having trouble knowing exactly how to proceed, here is a brief guide on what we can help you with.
New Pleasure Craft License
If you have a pleasure craft equipped with motors of 10 horsepower (7.5 kilowatts) or more, even if it is a personal watercraft, that is maintained or operated in Canada, you will need to obtain the corresponding license. This way, you will be able to operate it without having to worry about having to register the vessel, you will need to fill out the new pleasure craft license form.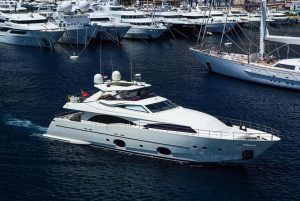 Duplicate of License
Did something happen to your license? Did it somehow get damaged or lost at some point? Well, if your license is somehow compromised, don't worry, you don't have to go through the trouble of obtaining your license all over again. However, you will need to get a replacement for the license, which is another process in and of itself. The specific form for this will be the Duplicate of Pleasure Craft Licence form, which you can find right here on our pleasure craft electronic licensing system.
Transfer of License
If you are doing a transfer of pleasure craft license to another person, they don't have to get a new license upon receiving the vessel. Instead, you can transfer your current one to the new owner by way of the specific transfer form. This way, there is no need for them to go through the entire process once again. This transfer process makes it all easier for both of you. Note that this will also be the form you want to use if you are removing or adding an owner to the existing license.
Update your License
Did you recently change your address or the vessel's hailing port? Do you need to update one of the vessel's specifications? Well, your pleasure craft license will need to be updated in order to reflect. However, this form cannot help you with a transfer of ownership, that will be up to the previously discussed form. But if you need to change anything else in particular, our pleasure craft electronic system has the form for you.
Renew your License
The renewal form will be of great use when your license is soon expiring. You won't be able to do this until you are at least three months away from the expiration date. Don't let your pleasure craft license expire! Here at the National Vessel Registry Center Corp, a pleasure craft electronic license system, we can provide you with all the necessary forms for you to keep your license valid. If you have any questions, don't hesitate to contact us  +1 (800) 419-9569 or email us at info@canadianvesselregistry.ca.