If you have never been a boat owner in the past but are considering it for the first time, there are some things that you want to make sure you understand about boat ownership before you rush out and make a purchase. You should be aware that buying a boat is a large financial commitment on your part. You should also know that owning a boat in Canada means following the laws and regulations set forth by the country regarding the water. Canada also has regulations that require your boat gets its documentation with the government. And you may wonder if you need documentation for a Canadian vessel you are purchasing or not.
Documentation for a Recreational Vessel
As is the case in many other countries, boats that are for pleasure or recreational purposes only in Canada do not have a legal requirement to seek registration with Transport Canada. Licensing your pleasure craft, if it has an engine of ten horsepower or more, is necessary. But registration is not. However, if you require a marine mortgage for your vessel, you will need to register your vessel with Transport Canada.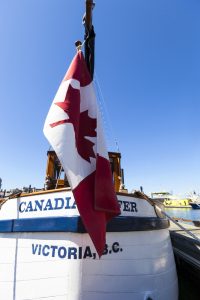 Documentation for a Commercial Vessel
If you own a commercial vessel with an engine of ten horsepower or greater, there is a legal requirement that you seek documentation for a Canadian vessel. Thus, your boat can get registration with the government. Some qualifications must be met to register your vessel. The owner of the boat must be a Canadian citizen. Otherwise, the corporation that owns the vessel must be incorporated under Canadian laws. The law requires that you fill out the appropriate forms and file them with Transport Canada. That way, you can get certification and documentation for your vessel.
Getting the Documentation You Require
If you need to get documentation for a Canadian vessel, here at National Vessel Registry Center Corp., we can be of great assistance to you. We are an agency that has all the forms you need on our website. So you can fill them out electronically and file them with us instead of having to mail everything through the mail service to Transport Canada. We can file with Transport Canada for you so the process is faster and easier for you. This will allow you to get your boat in the water faster. And so, you can enjoy the privilege of having a vessel in Canadian waters.