Are you aware that registering your boat comes with several perks? In the event of a disaster on Canadian waters, your boat's registration number serves as a distinct identifier. This number also helps prove your ownership if the vessel is irreparably damaged.
Moreover, a Pleasure Craft Registration enables you to proudly showcase the boat's name along with your selected port-of-entry. You can even show off and wave the Canadian flag. If you're thinking about financing your pleasure craft, obtaining a registration number is necessary. You need to display this number on the boat's hull in letters and numbers that are at least 4 inches tall. You can  paint the number or use durable vinyl cut-outs.
Both Canadian citizens and residents, protected under the Immigration and Refugee Protection Act, can license or register a boat in Canada. The act allows for boat registration even without acquiring citizenship rights. Corporations may also register a boat if they are supported by national or provincial laws.
Licensing vs. Registration
Pleasure craft licences (PCLs) are required for all boats with a 10-hp motor; however, not every boater needs a registration number. If your boat isn't already registered, licensed, listed, or recorded in another foreign country or state, you must register it in Canada. No worries if your boat is registered elsewhere – for example, sailing a Maine-registered boat to Canada for the summer is allowed.
Why Voluntary Registration Might Be Beneficial
While owning a recreational boat doesn't require registration in Canada as long as it has a licence, voluntary registration may provide extra benefits and legal protections, especially at international borders for those planning long-distance sailing trips.
Decoding Boat Registration Numbers
Boat registration numbers generally begin with two letters representing their province of origin. For commercial boats, these letters typically start with a "C." The letters are followed by seven unique digits assigned to your vessel.
Display your registration numbers on both sides of the boat's hull for easy identification. You must also place the boat name and port-of-entry (side by side) on the hull. On commercial vessels, the registration number is shown on each side of the bow, with the vessel's name and port-of-registry on the stern.
Essentials for Boat Naming
Ensure your chosen boat name is unique and not already claimed in the Canadian Vessels Registry. To prevent delays, have three potential names ready for registration. You can reserve your preferred name for up to a year while handling the paperwork. That will keep others from taking it first! Make certain that the name is easily pronounced, unique, and preferably water-related to ensure it's memorable.
Registration Fees and Application Process
The registration application form will need information about your boat, such as its method of propulsion, length, and tonnage.
To avoid stolen registrations or illegally sold boats, Canada takes boat ownership seriously. Typically, your boat's title with your name and the previous owner's signature will suffice.
Other acceptable documents include statutory declarations (for boats acquired through a declaration), wills, divorce settlements, court orders, or bills of sale.
Measuring Your Boat's Tonnage
Include your boat's tonnage in the registration application. There are two types of tonnage: calculated and non-calculated (assigned official tonnage). 
Calculated tonnage depends on the boat's length. A professional can also measure the vessels' tonnage for confirmation.
Updating Registration Information as Required
If there are changes to your boat (e.g., new ownership or major modifications like color schemes), update its registration within 30 days. You'll receive a new certificate of registry – always remember to carry it onboard!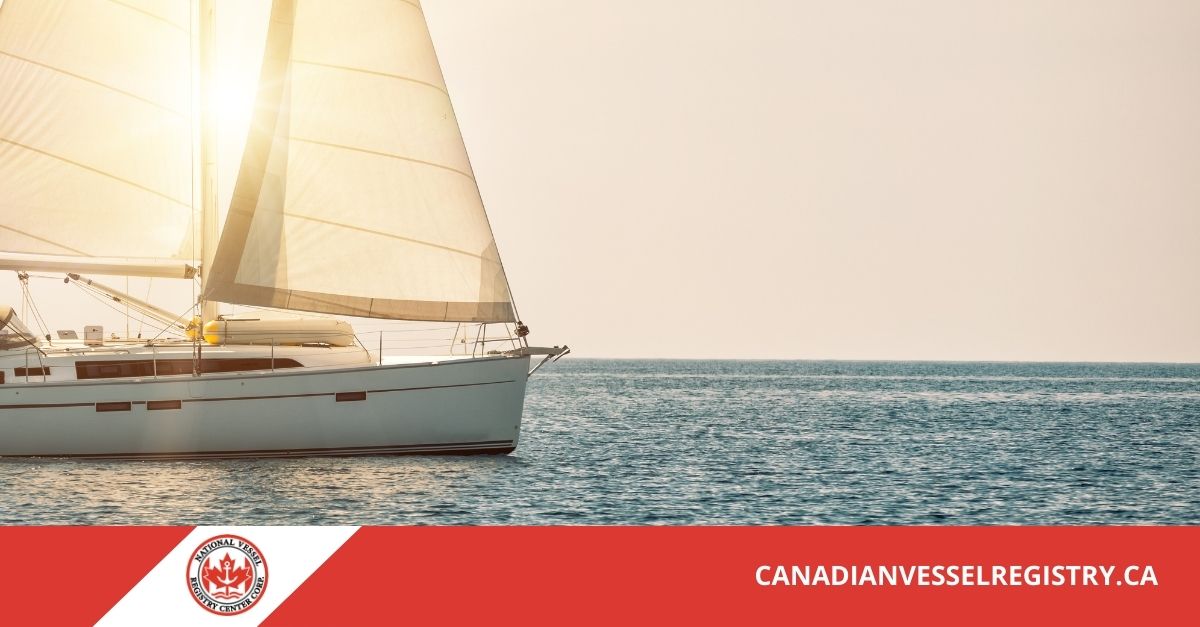 Get a Pleasure Craft Registration or Licence Today
Get a pleasure craft registration or licence online. Visit the Canadian Vessel Registry now.