A rope is sometimes overlooked as an important part of the maritime activity. It got hard work to do, so it's only right that you choose the rope that is right for your boat size, the activities you are participating in, and weather conditions. Most boaters go for either polypropylene or nylon rope. If you're buying your licensed pleasure craft, you need to comply with the Canada shipping act (2001) and fill in the necessary vessel registration forms.
Types of rope used in boating
Ropes are used on boats for rigging, towing, docking, and anchoring, so it's an important feature of your boat's equipment.
You have many choices when it comes to the fiber from which your chosen rope is made.
Nylon: Nylon is moderately priced, and has excellent shock absorption qualities, wears well, is UV resistant, and very strong.
Polypropylene: this is priced low to moderate. The line floats, which makes it great for light air spinnaker sheets. It's not particularly strong, however, is not UV resistant, melts at a low temperature, and has high stretch.
Polyester: this material has low stretch, is durable and strong, with a moderate price tag. It is particularly good for rigging.
Aramids (Technora or Kevlar): with high stretch and very low stretch, these lines are suited to racing boats and for rigging on large yachts. They are much more expensive than other ropes, can self-abrade, and have poor UV tolerance.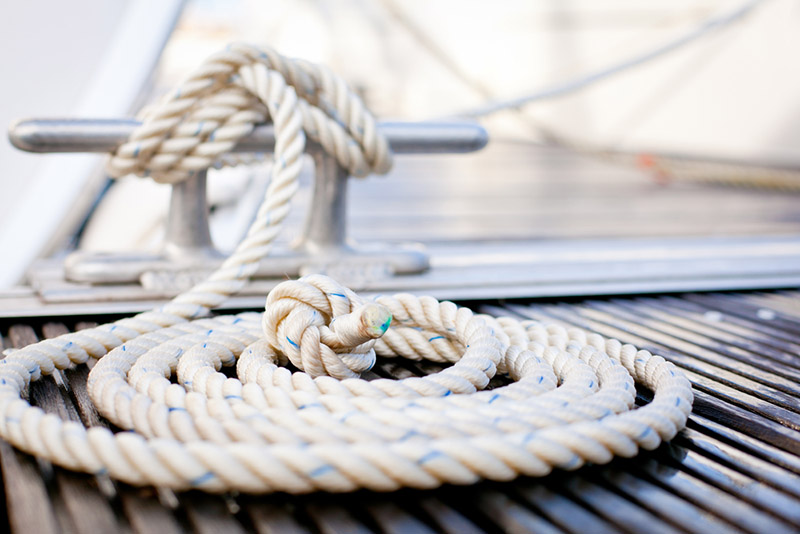 The anchor rope
If you want to stop yourself from floating away, you need an anchor with an anchor rode consisting of rope or chain, or a combination of both. The type you choose will depend on what kind of boat you have and how big it is. If you choose a combination of rope and chain, choose nylon rope for its elasticity and ability to withstand shock.
It's also extremely strong, fairly cheap, tolerates UV rays, is rot-resistant, and easy to handle. If you want to go for a nylon anchor line, use either a three-strand rope or a braided line, provided it won't get snagged.
The general purpose rope
For activities such as water skiing and wakeboarding, most people choose polypropylene rope, sometimes known as 'yellow rope.' It's used for the towing of dinghies and tenders but can be replaced by a nylon rope. Polypropylene rope floats and is nearly as strong as nylon, but does not last as long as nylon, largely due to its lack of UV-resistance.
The dock line rope
As with the anchor rope, nylon is the rope to choose for dock lines, both temporary and permanent slips. Because it is so strong and also has stretch, nylon is great for mooring and docking. Try a three-strand line or a double braid. Nylon is also easy to splice. For permanent dock lines, you will need to protect the rope from chafing, so choose galvanized shackles or chafe guards. Temporary dock lines are stored on board for travel purposes.
For more information about a licensed pleasure craft visit us https://canadianvesselregistry.ca/ at or call at +1 (800) 419-9569 (Canada)