Modifying the name of your boat could bring bad luck, or so they say.  But in reality, complications could arise.  That said, renaming it should not be done lightly.  The overall process can be stressful, lengthy, and time-consuming.  If you do not have the time or want to avoid the added stress that comes along with preparing your registration forms by yourself, you can hire professionals with an excellent reputation to assist you with your vessel registry application.
Issues regarding changing a boat's name and related transactions are more complicated than you realize.  During the vessel's lifetime, it is subject federal government laws and in some cases foreign laws.
Here at Canadian Vessel Registry Center, we have made it our mission to present a viable solution to simplify the application process for our clients whether they're just beginning their registration process to changing their vessel's name and everything in between.  Our website provides user friendly and easy to follow forms that you can fill out to make it easier for you to complete the overall process of renaming your boat.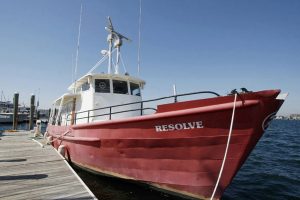 When you change the name of your boat, it is vital that you have the appropriate paperwork in order.   You should ensure that you have all the requirements needed to make the transactions as fast and smooth as possible.  As stated above, changing the name of your boat involved intricacies.  Because of that, most boat owners in Canada seek our services to facilitate their transactions.
By choosing us to help you in renaming your boat, you can be sure that the overall process will be smooth and fast.  We can screen your application, and we will process it through our system so that you will experience a smooth transaction.
In addition to a change of vessel name, we can also help in transferring registration from another owner.  It is especially useful if you need to sell your vessel or purchase a vessel. If you inherited the boat from a friend or a family member, you would fill out the request for Transfer of Ownership registry form.
After submitting your requirements and having filled out the proper forms, we will present them to the proper authorities. Your documents will be completed in no time without causing any hassle. We will keep you updated about its progress. If there are problems that might arise, our staff could handle them legally.
If you need further help in changing the name of your boat or want to avoid the complications that could arise, please contact us at:  info@canadianvesselregistry.ca