You finally found the perfect pleasure boat, and it meets all your expectations and needs. You cannot wait to get it for yourself, but the one issue you have is that the boat is in the United States and you are in Canada. Since this is the first time you are purchasing a large vessel like this, you may not be sure about what the protocols are when you are trying to bring a boat in from outside the country. Do you need to drive it across the border or can you sail it across? What paperwork do you need? What fees are involved. You may have a lot of questions, so it is a good idea to familiarize yourself with what to do when importing a vessel into Canada so you can be sure you do everything legally.
Bringing the Vessel into Canada
You can bring the vessel you purchased into Canada in several manners. You are certainly welcome to sail the boat into Canadian waters and cross the border that way. Also, you can drive the boat across the border, bringing it in on a trailer that you tow or on a truck that you have bring the vessel across. Any of those manners are acceptable. You also need to be prepared for when you cross the border. So be sure to you have all the necessary paperwork ready to present to show to the border agents.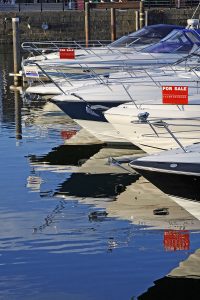 Paperwork and Importing Taxes
When importing a vessel into Canada, you need to have documentation that shows you are the rightful owner of the boat. You want to have the bill of sale you received for the transaction. This document is useful to show what the sale price was, where it is from, and other pertinent information. You also will need to have the title of the vessel, and your passport to show that you are a Canadian citizen. You will then be responsible for paying any taxes due on the vessel for importing it into the country.
After Importing, Get Registration
After importing a vessel into Canada, you may want to get your boat federally registered with the vessel registry held by Transport Canada. To facilitate this process and make it easier for you to file an application, we at the National Vessel Registry Center Corp. are here to help you. You can find all the applications you may need here on our website. You can fill them out electronically and submit them, along with any supporting documentation and fees. We can take care of the rest for you. We make registration fast and easy for you. That way, you can enjoy your new boat as soon as possible in Canadian waters.