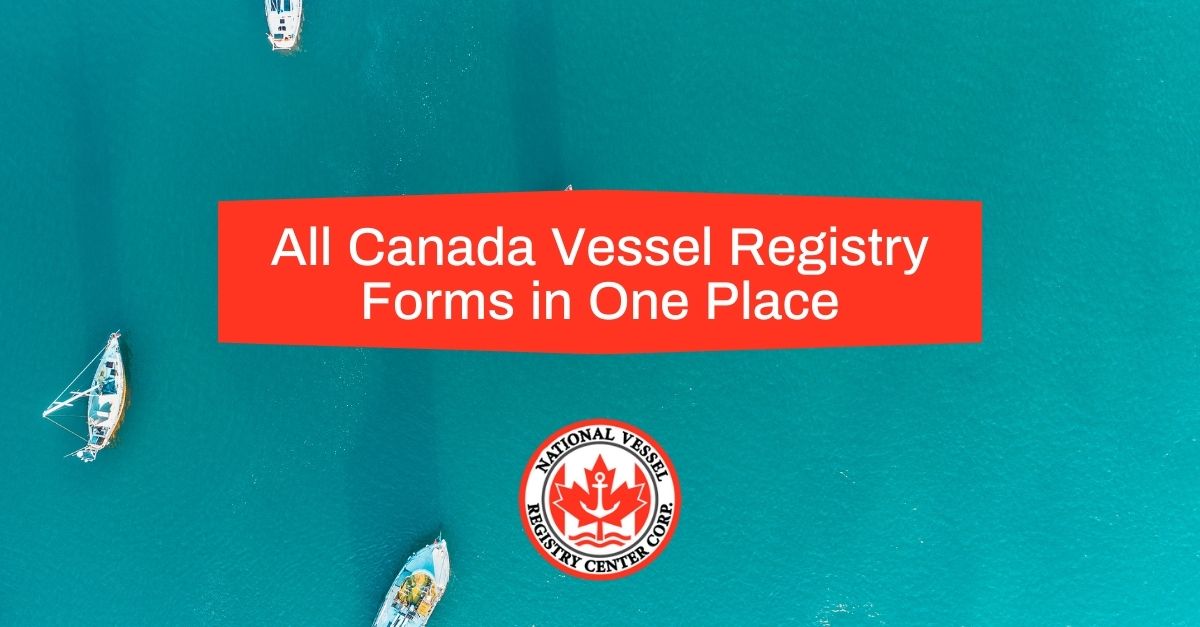 Have you been looking for an easier way to find and complete the Canada vessel registry forms that you might need for your vessel? Do you want to learn which forms are right for you before you fill them in? Those are just some of the reasons that vessel owners have come to the National Vessel Registry Center Corp. for many years. Here, we provide an easier way to complete the forms, yes, but also pertinent information about them as well. 
We understand that for many, completing vessel documentation forms is something that they want to get done as quickly as possible. To that end, we've made it easier than ever to fill out these forms. Our site has been fully optimized for mobile devices. That means you can complete these forms from your phone, tablet, laptop, or anything else. So, you can fill them out all at once or throughout your day. 
Learning About a Vessel 
You do not need to already have a vessel to take advantage of our vessel documentation forms. Many come to us while they're still researching a vessel. That way, they can have as much information as possible before they make a potential purchase. To that end, you can find a "Transcript" of the vessel and the "Historical Research" form as well. Either of those can help you to discover more information about a vessel, all of it coming from an unimpeachable source. 
Registering a Vessel 
Perhaps the most commonly-utilized form at our site is the "First Time Registration." Should you decide that it's time to register your vessel and you meet the qualifications, we can help. In short, those qualifications include your vessel being owned by a Canadian citizen, it being a non-pleasure craft, and it being powered by an engine that's more than 10hp (7.5kW). 
For your certificate to be valid, it can't be lost, mutilated, or the like. Simply having a copy saved on your phone or something equivalent is invalid. So, you can get a replacement certificate through our site as well. 
We also offer the "deletion" form, for when you need to delete your vessel from the registry. Vessel owners avail themselves of this form if their vessel has been wrecked, if they sold it to a foreign citizen, or if they have decided to take it out of service. 
Financing a Vessel 
There are many potential benefits to registering your vessel. One of the most popular is to receive financing for your vessel. To that end, you can find forms for this on our site as well. If your vessel is currently on the Canadian Register of Vessels, then you can choose to apply for a mortgage to be recorded against it. Once you've paid off that mortgage, you can find the "Discharge of Mortgage" form on our site, too. 
Forms of Change 
Vessel owners decide to change their vessels often. When that occurs, you're going to want to update your registration with the powers that be. We have all of the forms to allow you to do that so much easier, too. To that end, the "Alterations" form allows you to alter your vessel's length, tonnage, horsepower, propulsion type, and other changes. 
Additionally, we have forms to utilize when changes occur not to your vessel but to you as well. We have the "Application for Change of Address," so that the authorities have your proper address at all times. Speaking of moving, "Change of Vessel Name and/or Transfer of Port of Registry" is the proper form for if you move your vessel to a new port of registry. 
Vessel ownership can change for a variety of reasons. If you decide to sell your vessel, the "Transfer of Ownership" can help to make the process a bit easier. Other forms for changing ownership include the one for "Transmission on Death/Bankruptcy." 
Other Canada Vessel Registry Forms 
We believe in empowering vessel owners, to make it easier for them to use their vessels how they would like. To that end, we make it easier to fill out forms such as the one for "Bare-Boat Chartered Vessels." With that, you'll be able to utilize your vessel how you would like. Essentially, you can find all of the forms that you'll need for the duration of owning your registered vessel.
Small Vessel Registry and Pleasure Craft Licensing 
Beyond all of the forms for the Canada Vessel Registry, we also have the forms for vessels that belong on the Small Vessel Registry, too. To help as many vessel owners as possible, we also offer Pleasure Craft Licensing forms as well. Our goal is to create a one-stop-shop of documentation for the Canadian boat owner. To see all of the different forms that we offer, click here. Happy boating!