As complicated as figuring out how to register a boat in Ontario might seem, it doesn't have to be. At least, it shouldn't be if you have the right guide. That is what we are here for, after all, at the National Vessel Registry Center. Allow us to guide you through the process.
First, Determine Key Information About the Vessel
When looking at how to register a boat in Ontario, you will first need to determine certain identifying facts in regards to the vessel's relation to you. This means that you will have to name it. What should the name be? Well, that's up to you! The main caveat is that the vessel name has to be unique, so there can't be any other vessels registered under the vessel name that you pick. How are you supposed to know if the name you choose has already been taken? As part of the form, you will have to provide three different name choices ranked in priority order. Lastly, you will half to determine what the intended port of registry will be. This should be the port you are intending to sail from and to most often.
Provide Manufacturing and Model Facts
Next, in order to register the vessel, you will have to provide information about the vessel itself, such as the type of propulsion, the method of propulsion, the number of engines, fuel type, and propulsion power, among other similar facts about the boat. This will also include manufacturing details, such as measurements and gross tonnage. This information should have been provided to you by the seller of the vessel when you acquired it, but if you are having issues determining certain characteristics of the vessel, it's always a good idea to do some research or contact the manufacturer to clear up any doubts. Trust us, this step is nowhere near as inconvenient as it might seem at first sight.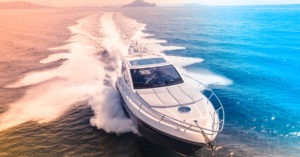 Determine the Use of the Vessel and Submit
Lastly, you will have to register your vessel under specific categories. This means that you will have to clarify whether the vessel will be used for pleasure purposes as opposed to commercial ones, as well as describe whether it's a passenger, fishing, cargo, tug, or pleasure craft in and of itself. You will also need to state whether the vessel has or hasn't been previously registered in Canada or a foreign country. Once you are done filling out all the relevant information, all you need to do is pay the registration fee and submit your form. If you do so through our platform, our team will make sure that all the information is in order before we pass it along to Transport Canada so that you can avoid returns or rejections.
Register a Boat in Ontario
Here at the National Vessel Registry Center, our job is to make every maritime process easy for you, whether it is for new registration, a transfer, or a change in ownership. All these forms and more are readily available on our website for you to fill out. If you have any questions, don't hesitate to reach out to us by calling +1 (800) 419-9569 or email us at info@canadianvesselregistry.ca.